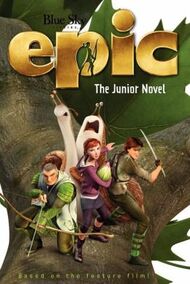 Epic: The Junior Novel is a children's book based on the film.
The Jinn are tiny forest creatures who love all growing things. Their enemies, the Boggans, want to destroy the forest by spreading decay. When a human girl named MK magically shrinks and joins forces with the Leafmen— the brave warrior Jinn—the Jinn may have a chance of survival. Join MK, the Leafmen, and other curious creatures on a dangerous journey to save this miraculous forest world!
Differences from the Movie
Edit
In the novel, during the final battle, Bufo redeems himself, while in the movie, his fate after insulting Dagda is unknown.